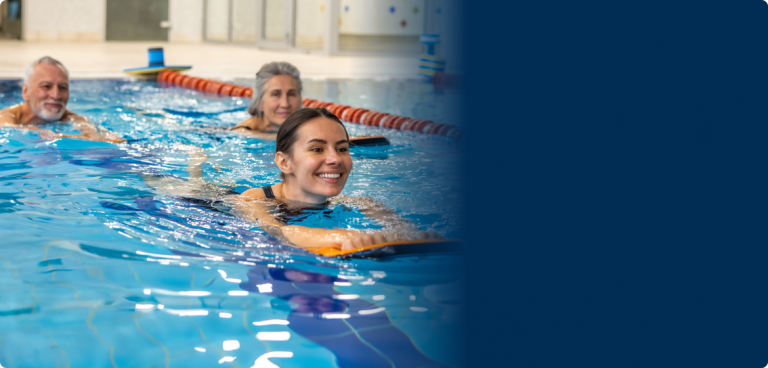 Jump Right In – The Water is Great!
Our popular Water Fitness classes take place in the Recreational Pool (86 degrees) and Therapy Pool (91 degrees). The properties of water provide low impact to the weight-bearing joints, increase circulation, and strengthen muscles in all directions of movement. Aquatic exercise is an appropriate and effective option for beginners, weekend warriors, and athletes. Classes focus on cardiovascular stamina, strength, and flexibility.
*Participants must be able to independently perform skills and must be ambulatory with or without an assistive device.
This is a warm water exercise program that helps to increase flexibility, range of motion, balance, endurance and decrease joint/muscle stiffness. Participants exercise without putting strain on joints and muscles while building cardiovascular fitness. Arthritis Foundation guidelines are followed by certified instructors. Excellent also for beginning or newly returning exercisers or for strengthening pre/post surgery.
Schedule:
Mon / Weds / Fri
8:00 am - 8:45 am
9:00 am - 9:45am
Mon / Weds / Fri
9:00 am - 9:45 am
Tues
7:10 AM - 7:55 AM
Arthritis and Beyond - Sundays
Arthritis & Beyond is designed for those with higher fitness or function levels that may have arthritis. It promotes joint range of motion, flexibility, balance, and agility while building cardiovascular fitness and muscle strength.
Schedule:
Sun
8:10 am - 8:55 am
Hustle and Muscle - Saturdays
Hustle and Muscle is a class that utilizes circuit and interval training to enhance muscular control while also increasing muscle strength. This class is designed as a low impact, strength-based workout involving repeated bouts of effort and varying intensities followed by recovery times. The goal of this class is to target core muscles such as abdominals, hips, glutes, and arms with movements that focus on flexibility, strength, and endurance. The class will consist of a warm-up with dynamic stretching, the main workout targeting major muscle groups, and a cool down with stretching at the end.
Schedule:
Sat
8:00 am - 8:45 am
Total Body Sculpting - Wednesdays
This is designed for those wanting a full-body workout that is focused on stretching and strengthening as well as flexibility and balance. With the viscosity of the water and the use of resistive equipment, muscle toning is a breeze.
Schedule:
Weds
10:00 AM - 10:45 AM
Do we have class if it is raining?
Yes, our Water Fitness classes will meet when it is raining. There will not be classes during inclement weather such as thunder and or lightning.
How am I notified if a class I am registered for is canceled?
When a Water Fitness class is canceled the Mindbody platform will automatically email and text all who have registered for that canceled class. In your personal profile you have the choice of receiving either emails and or texts for any reminders and schedule changes. Texts are delivered immediately whereas emails can be a much slower form of communication
Why should I cancel early?
If you are a pass holder, you get this class back as one of 18 sessions you can attend during the current pass. If you are a single session drop in participant, you will receive class credit to your Mind Body account.
When you Early Cancel a class, you help your classmates! The person who is 1st on the waitlist will be automatically notified that they have been enrolled in the class.
have been enrolled in the class. When on the waitlist, how will I be notified?
When someone early cancels from a class, the 1st person on the waitlist will automatically receive an email and or text that they have been enrolled in the class. We recommend in your Mindbody profile to select TEXT for reminders & schedule changes. The text notification provides the option to accept or decline the class session, the email does not and suggests that you call.
All patrons entering the pool must be wearing proper swimming attire.
Masks must be worn at all times on deck.
We have classes rain or shine.
Please contact us at least 4 hours in advance if you are feeling ill and will not attend class.
What to bring to swim class:
Proper swim attire
Towel
Sandals (pool deck can get very hot during the warm months)
Hat
Apply sunscreen 30 minutes prior to your class (sunscreen applied less than 30 min prior to class just comes off in the water)
Masks
Cover-up
How do I register for a Class Session?
To register for Water Fitness classes, you will need an account, which can be made either online or over the phone by providing basic contact information. Patrons may register for a class online, or over the phone at (626)564-0330 ext. 601. In order for your registration to be finalized and a spot reserved, you will need to provide payment in full (we accept all major credit cards, cash, and checks).
Does the Center offer credits or refunds?
If there is a doctor's note, credits are offered if the patron cannot finish out the session. The doctor's note must be on a letterhead with the patron's name and dates they cannot be in the water. There is a no refund policy.
The class I wanted is full, can I be waitlisted?
Waitlists are available, however, please note that the only way to register someone off of a waitlist is if someone un-enrolls from that specific class. This is an occasional occurance. Please check with the office to determine if the time you prefer is available.
What is the Water Temperature, depth and size of the Recreational Pool?
Water temperature is 86 degrees. Shallow area depth is 3'6" / Deepest area depth is 17" / Olympic size – 50 meters by 25 yards.
What is the Water Temperature, depth and size of the Therapy Pool?
Water temperature is 91 degrees. Shallow area depth is 3'6" / Deepest area depth is 6' / Size is 35' by 45".