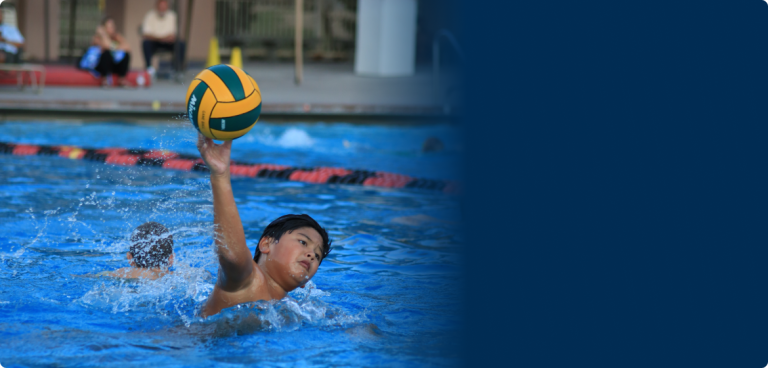 Water Polo - All Ages & Levels
At the RBAC, our student-athletes are led by an incredible coaching staff that includes current local high school, collegiate, zone team, and National Team coaches. Our student-athletes begin with Splashball (5-7 years) and Intro to Water Polo (8-13 years) which focuses on increasing water safety, building confidence, and introducing key water polo concepts and skills. Our Gold Academy is the next step. In Gold Group (8-14 years), student-athletes will build endurance, develop strength and speed, and improve their water polo skills. After Gold Academy, student-athletes are invited to try out for our travel teams. We field multiple travel teams at each age group (10 & under, 12 & under, 14 & under, 16 & under, and 18 & under).
Elite Water Polo Training
Our travel teams focus on learning teamwork, time management skills, and refining water polo skills while competing in all major water polo tournaments, including United States Club Championships, National Junior Olympics, and the Champions Cup.
Our program has placed over 100 players on national team rosters with the majority of our graduating seniors continuing to play at the collegiate level. Throughout our Club history, we have medaled 14 times at national events, including winning 6 national championships.
The most common phrase we hear from our families is: "We wish we had started sooner!" Contact our coaching staff today to schedule a time to get started with our program! Players may start at any time! No prior experience is required.
Now Back in Session!
Splashball is for boys and girls from 5-7 years old. Splashball is a fun, non-contact shallow water activity based on water polo. Participants are encouraged to jump off the bottom, catch with both hands, and HAVE FUN! Splashball takes place in the shallow end of the Recreational Pool once a week. It is the best way to introduce boys and girls to an aquatic team sport as they begin in aquatics! To sign up for our Splashball program, email us at info@rbwpc.org
Intro to Water Polo (8-13 Years)
Intro to water polo is an opportunity to learn the rules and fundamentals of water polo while gaining endurance, building confidence, and learning to work as a team. Practices are currently offered at the RBAC two nights a week (Mon and Wed).
2023 Sessions:
Mon Feb 27th - Fri Mar 30th
(no practice week of 3/13)
Mon Apr 3rd - Fri Apr Apr 28th
Mon May 1st - Fri May 25th
Off week 5/29 - 6/2
Mon Jun 5th - Fri Jun 30th
Mon July 3rd - Fri July 28th
Mon July 31st - Fri Aug 25th
Mon Sep 5th - Fri Sep 29th
Schedule
Intro I
8-10 years
6:00 PM - 7:30 PM
Intro 2
11-13 years
7:00 PM - 8:30 PM
RB Gold Academy (8-13 Years)
Gold Academy is an 8-week intermediate development group. Athletes enter the Gold Academy through Intro to Water Polo, Splashball, or a coach's recommendation.
Gold Academy focuses on athletes as they transition to our travel teams. The Gold Academy focuses heavily on conditioning and gaining experience through practice and game situations. At the end of each 8-week session, Gold Academy athletes compete in a one-day local tournament.
2023 Sessions:
Mon Mar 6th - Fri Apr 28th
Mon May 1st - Fri June 23rd
Off week 6/26-6/30
Mon July 3rd - Fri Aug 25th
Schedule
Gold AcademyI (ages 7 - 11)
Tues / Thurs / Fri
6:30 PM - 8:00 PM
Gold Academy II (ages 12 and up)
Tue / Thur / Fri
7:00 PM - 9:00 PM
Boys and Girls Competition Teams (8-18 Years)
Our travel teams represent the RBAC Water Polo team at competitions throughout the country. We have A and B travel rosters for boys and girls at most age group from 10U through 18U. Our travel rosters compete in all major USA Water Polo events, including National Junior Olympics, and have won five national championships in the last four years.
In addition to competing for us, members of our travel rosters represent Rose Bowl Water Polo on Olympic Development Program (ODP) Zone Teams and National Teams each year. In the past five years, we have had upwards of forty team members compete on National Teams for boys and girls between 13-18 years old and nearly 100 ODP zone team members.
Our travel teams also compete internationally, with our boys and girls given the opportunity to travel abroad in alternating years. Our teams have competed in Greece, Italy, and Spain.
Fees
10U - $171 per month
12U - $194 per month
14U - $194 per month
16U - $210 per month
18U - $210 per month
Practice Schedules
Fall: Our year begins on the first Monday in August. HS Boys are away for CIF seasons.
Winter: Begins the first Monday in November. HS Girls leave for CIF seasons and HS Boys return from CIF seasons.
Spring: Begins the first Monday in March. We have all of our groups back from CIF for the first time during the year
Summer: Begins the first Monday in June. With schools out, we are able to add morning practices during the weekdays.
August: The first Monday of August until Labor Day weekend.
Coaches may make adjustments to their individual age group and practice group plans, make sure to ask your coach about any changes – ie. canceled practices, modified dryland or swim plans.
Annual Competition Calendar
The competition calendar is intended to give an idea of events by month. Events may be added or removed throughout the year. Changes and exact dates will be communicated directly to families by coaches.
Events are offered for all age groups and all levels. Entries are based on registration. Coaches will communicate directly with their groups regarding event entries, rosters, and game schedules.
How old do boys and girls need to be to join Rose Bowl Water Polo?
Our Intro to Water Polo program takes place in the deep end of the Recreation Pool and is designed for 8-13-year-olds. We offer travel rosters for 10U, 12U, 14U, 16U, and 18U boys and girls. The youngest members of our 10U travel roster are 8 years old. Ages in water polo are calculated from August 1st. Splashball is our early entry program and is offered for participants 5-7 years of age. Practices take place in the shallow end of the recreation pool.
Do I have to know how to play water polo before joining the team?
Nope! In fact, most of our athletes come to us with very little or no experience. Through Intro to Water Polo and the Gold Group, we have the opportunity to teach our teammates how to play and love water polo.
You can sign up at any time! We offer practices year-round and participants can join at any time. You are welcome to attend practice before signing up as well. To sign up for our Competition Teams and for Splashball, email us at info@rbwpc.org. To sign up for our Pre-Teams programs (Intro I and II, and Gold Academy) email us at dcohen@rosebowlaquatics.org
The most most common locations for games are a triangle between San Clemente, Riverside, and Santa Barbara. We occasionally have games in San Diego. Junior Olympics are in Northern California every other year, with the host home pool at Stanford University.
What are Junior Olympics? Will I be able to be on a Junior Olympic team?
Junior Olympics are the national championship event and they are hosted in the final two weeks of July. The event lasts 4 days for boys and 4 days for girls. The host area alternates from Northern California (typically Stanford University) and Southern California (typically Irvine).
Roster selections for Junior Olympics are made in the month of May and are based on a number of factors including but not limited to: mastery of system of play, practice attendance, ability to work well with coaches and other teammates, and individual performance.
Is financial aid available to join the team?
The RBWP Booster Club is a 501©(3) volunteer-run organization that works to support the activities of the RBAC Water Polo team. Families make monthly payments to the Booster Club to help fund tournament entries and other program-specific activities.
The Booster Club meets monthly on the second Monday of the month at 6 pm. All families of current program participants are welcome to attend. You can email the booster club at info@rbwpc.org
Congrats to our 2022 Graduates!
All new players should attend a practice prior to registering. Contact the team at RBWPC to schedule a time for your first practice.
There are three important requirements for Rose Bowl Water Polo team registration. When you have completed all three steps below, you will be completely registered. Only players who are completely registered will be allowed to practice and participate in tournaments.
Step 1. Register with USA Water Polo at usawaterpolo.org
Memberships are on a calendar-year basis and expire on December 31st. However, if you register between November 1 and December 31, your membership will be valid for the following year as well.
Step 2. Register with the Rose Bowl Aquatics Center at the front desk.
Fees are paid monthly to the RBAC. Families are encouraged to sign up for auto renew to streamline the monthly payment process.
The Water Polo team determines age groups based on the USA Water Polo age cut-off of August 1st. Practice and competition groups will be based primarily on age.
RBAC fees are paid at the front desk or by phone at 626-564-0330
Step 3. You will receive your Booster Club login. Use the Booster Club site to pay monthly Booster Club fees and pay-to-attend fees.
Booster fees are required for participation in the program. Fees are paid monthly. Rates by age group are: 10U $38/month, 12U $58/month, 14U $73/month, 16/18U $68/month.
There will be four pay-to-attend events per year. EC Cup (Fall), K7 (Winter), JO Qualifier (Spring), JOs (Summer)
Colleges represented by RBAC Alumni
This years grads will continue at:
Fresno State University
George Washington University
LA Valley College
Marist College
Pasadena City College
San Diego State University
UC Los Angeles
UC Santa Barbara
Wagner College
Air Force
APU
APU
Brown
Bucknell
CAL UC - Berkeley
Cal State East Bay
Cal Tech
Chaminade (Hawaii)
Claremont McKenna
CSULB
Golden West
Gonzaga
Harvard
LA Valley College
LBCC
LMU
Marist College
Middlebury College
MIT
Mt. Sac
Navy
Pacific
Pasadena City College
Pepperdine
Pierce College
Princeton
Santa Clara
SJSU
Stanford
UC Davis
UC Santa Cruz
UC Santa Clara
UCLA
University of the Pacific
UOP
USC
Villanova
Washington and Jefferson
Whittier College
Yale