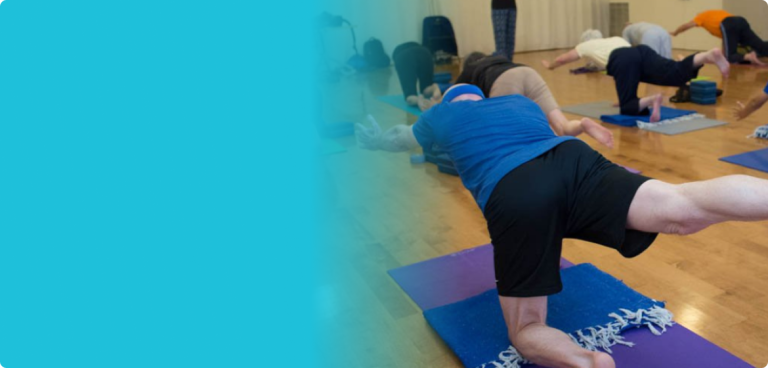 Yoga Programs
Maintaining a regular yoga practice can provide physical and mental health benefits. Studies have proven that when yoga is practiced regularly the participant becomes more flexible, and stronger, handles stress better, and sleeps deeper. Yoga is an individual journey which makes it possible for anyone at any level to begin. Join our supportive and welcoming community today!
RBAC Yoga classes are offered both in person and via zoom.
Please purchase the correct pass that fits your attendance. Online attendance and monthly pass purchases are tracked.
In-Person Details
Come early to secure your spot. No reservations will be taken online or by phone.
All in-person classes are on a first come, first served basis…get there early!
Daily sign-in clipboard available at the Front Desk 30 minutes before the start of each class.
Maximum room capacity is 16 people. No exceptions, sorry.
First in-person class, check in at the Front Desk to sign a liability waiver.
Single drop-in class, pay in person at the Front Desk.
If you have an unlimited monthly pass, sign in at the Front Desk and follow the instructions of the staff.
Liability waiver only needs to be signed once at your first in-person class.
If you buy a single class and would like to buy a monthly pass on the same day, you pay the difference.
Still undecided?
The relaxation techniques incorporated in yoga can lessen chronic pain, such as lower back pain, arthritis, headaches and carpal tunnel syndrome. Yoga can also lower blood pressure and reduce insomnia.
Other physical benefits of yoga include:
increased flexibility
increased muscle strength and tone
improved respiration, energy and vitality
maintaining a balanced metabolism
weight reduction
cardio and circulatory health
improved athletic performance
protection from injury
Aside from the physical benefits, one of the best benefits of yoga is how it helps a person manage stress, which is known to have devastating effects on the body and mind. Yoga's incorporation of meditation and breathing can help improve a person's mental well-being. Start your practice today!
The Yoga Pass for RBAC will ONLY be for yoga classes.
| | | |
| --- | --- | --- |
| Packages/Class Costs | Adults | Senior |
| Daily/Drop-in, In-person only | Adult $18 | Senior $15 |
| Unlimited Monthly, In-person/Zoom | Adult $59 | Senior $52 |
| Friday Chair Yoga, Zoom Only | Adult $31 | Senior $27 |
If you are on auto-renewal, please call the RBAC at 626-564-0330 or email webmaster@rosebowlaquatics.org to ensure you have the correct pass. Purchase a pass Here.
PAYMENTS can be made to the RBAC. Please purchase your pass on or before the beginning of the month by:
Creating an account on the RBAC website and purchase a monthly pass online using ActiveNet. Call Customer Service at (626) 564-0330 if you need assistance.
Calling and pay over the phone setting up auto-pay with a credit card.
Mailing a check specifying the payment is for yoga.
Healthy and Friendly Reminders
Health & Safety Reminders
MASKS are not required in class at this time. We are following the Pasadena Health Dept. and CDC guidelines. As we are well aware, this can change. Feel free to wear one if you prefer.
PROPS will be available along with wipes for you to clean the props before returning them to the prop closet. We highly recommend you bring your props if you can.
CLASS will use social distancing so leave space between each other in the Arroyo room.
All are welcome and thank you for supporting RBAC with your yoga practice.
Yoga with Kelley
9:30 am – 10:30 am
Yoga with Joyce
Wednesday 10:30 am – 11:30 am
Yoga with Janine
Thursday: 6:00 pm – 7:00 pm class time
Thursday: 6:30 pm – 7:30 pm class time (during summer camp)
Senior Chair Yoga on Friday Zoom
Yoga with Marita
9:30 am – 10:30 am