The Transformative Power of the RBAC Dawn M. - Mother of Tess
Rose Bowl Aquatics Center
November 1, 2023
/
2 mins read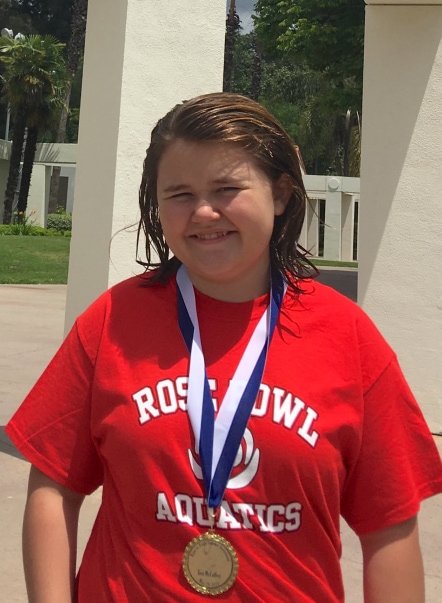 The Rose Bowl Aquatics Center (RBAC) has been a sanctuary of support, acceptance, and growth for my extraordinary seventeen-year-old autistic daughter Tess. Her journey with the RBAC began when she was just a baby, and over the years, it has evolved into a profound connection that has forever altered her life.
Tess' relationship with the RBAC began with group swim lessons during her early years. Those initial encounters with the water marked the beginning of a remarkable transformation. As she grew, she participated in various classes, each contributing to her development. When she turned six, Tess was introduced to the Rays Swim Team, an initiative tailored specifically for special needs children. The Rays Swim Team became the catalyst for Tess's personal growth, providing a nurturing environment where she continued to thrive.
Within the supportive embrace of the team, Tess has blossomed year after year, transcending her limitations and uncovering her true potential. The benefits have been immeasurable. The Rays Swim Team has not only given her a space to develop life skills but has also been instrumental in forging meaningful connections and lasting friendships.
Tess has learned invaluable skills that have eluded her in other therapeutic settings. She has learned to set and achieve personal goals, paving the way for future events such as swim meets. She has learned to take direction and has excelled in a team atmosphere. But beyond these achievements, she has also grown as an individual, honing her social skills and nurturing personal relationships.
You might be wondering how well Tess swims. Well, she's not just a swimmer; she's a strong and accomplished one. She frequently competes - and often triumphs - in tournaments alongside her peers, who are primarily male, and sometimes older and physically stronger. This accomplishment is a tremendous source of pride for Tess and a testament to the incredible strides she has made.
Water has always been a soothing and stabilizing force in Tess' life, offering her mind and body a sense of comfort and reassurance. But it has also become a conduit for her success, a vehicle for her to achieve greatness. It's a remarkable feat for this teenage autistic girl who, ironically, has parents who fear deep water and cannot swim themselves.
These remarkable opportunities would not have been accessible to Tess without the support and programs offered by the RBAC. This institution is staffed with dedicated individuals who have made a lasting impact on Tess' life.
As a parent, I am eternally grateful for the RBAC and everything it has done for my daughter. I implore you to support this extraordinary place and the exceptional people who make it all possible. In doing so, you are not only supporting aquatic programming but also the dreams and aspirations of remarkable children like Tess.
Dawn M. - Mother of Tess, Longtime Member of the Rays Swim Team
Giving to the RBAC supports water safety initiatives and more. Your gifts immediately go to work supporting activities like the learn-to-swim program, financial aid, and maintaining a safe facility. Join us in our effort to make everyone water-safe and create a lasting impact in our community. Donate Now!